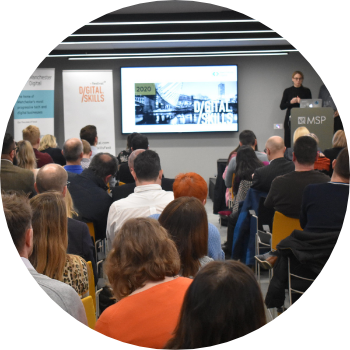 Monday 6th February 2023
The Digital Skills Festival will be launched in person with our Conference Day, bringing together industry speakers and will also see the launch of the annual Digital Skills Audit results.
The afternoon will be welcomed by Katie Gallagher, Managing Director at Manchester Digital, as well as the Board, followed by a keynote speaker, industry speakers and panel guests – all of which will be announced soon
The Manchester Digital Skills Audit is an annual audit of over 250 digital and technology businesses, identifying new or emerging trends as well as key issues that the industry faces and skill sets and job roles of growing importance. The findings from the 2022 Skills Audit will be discussed with analysis on what these findings mean for the sector.
Who is the Conference aimed at?
Who is the Conference aimed at? This event is for Manchester Digital members, public sector and government decision makers, educators and tech employers interested in talent and skills.
Agenda
13:00 – 13:30 Registration
13:30 – 13:40 Welcome address, Manchester Digital
13:40 – 13:50 Welcome from our strategic partner, Manchester City Council
13:50 – 14:10 Unlocking early careers, keynote session with Auto Trader
14:10 – 14:50 Question time: Where is the north going in terms of levelling up in technology?
14:50 – 15:10 Comfort break
15:10 – 15:40 Skills audit findings and analysis
15:40 – 16:20 Panel: How do we protect the sector's growth and continue to address the skills gap through a cost of living crisis? Ensuring both business and employees prosper through uncertain times.
16:20 – 17:00 New Spaces, New Skills, New Opportunities. Tom Cheesewright
17:00 Closing remarks
17:00 – 19:00 Reception drinks & networking