[ Digital Apprenticeship Day ]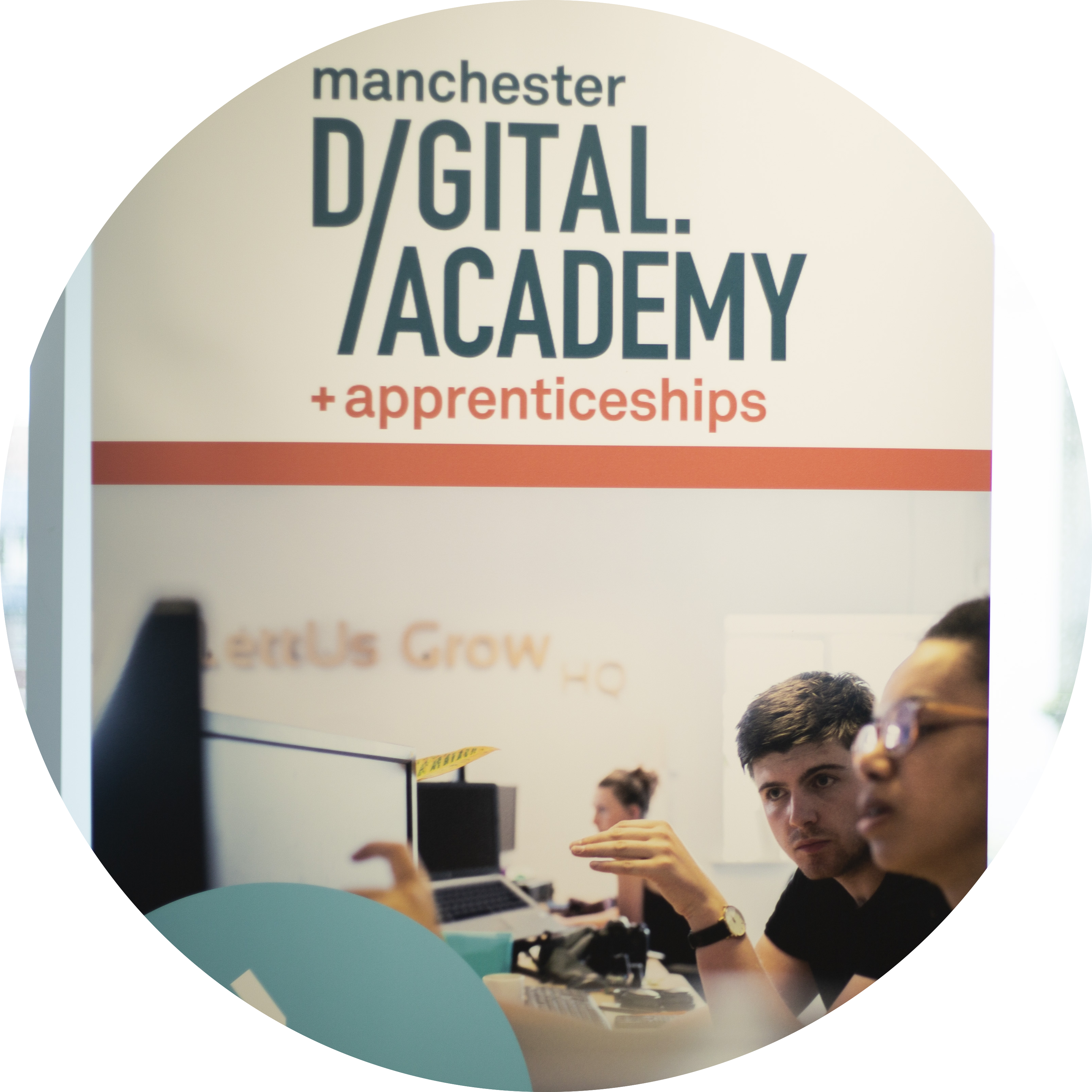 Tuesday 7th February 2023
Manchester Digital's Digital Skills Festival and National Apprenticeship Week come together to celebrate and elevate the amazing opportunities and benefits digital apprenticeships provide.
On Digital Apprenticeship Day we'll put apprenticeships in the spotlight. Whether you're an employer at the start of your apprenticeship journey, or prospective apprentice of the future, you'll find a helpful insight or top takeaway for you.
Tech apprentices are an excellent way for people to gain an entry-level role in the tech and digital industry, with a full-time wage and training as well. Apprentices come from all different backgrounds, from other industries – and you do not need a university degree to join a scheme.
Events
Developing Diverse Talent: Making Apprenticeships Work for You
A virtual breakfast briefing event aimed at employers who are interested in understanding digital apprenticeships benefits more, and how you can introduce or expand apprenticeships into your organisation to help you increase the accessibility of careers pathways available to more diverse tech talent. Or even if you just want to find out how to leverage your Levy, join us.
As well as an introduction into the apprenticeships landscape, options and support available to you, you will hear from employers who invest in apprenticeships to support a mixed talent recruitment approach. They will give you insights into what's worked well for them, and lessons learned along the way. We'll bring to life what it's like to work with apprentices in your business with talks from some in-work mentors and managers of apprentices about their experience and advice.
If you are an employer, come along and find out more about tech apprenticeship schemes.
Aspiring Apprentices – Your Digital Future
An in person event for those looking to progress or kick start their tech career through a digital apprenticeship. The event is aimed at college students,or recent graduates looking for a different skill discipline, career changer or upskillers.
As well as an introduction to the digital apprenticeship pathways and opportunities available to you, you'll get the opportunity to talk to local employers who are looking to hire through apprenticeships in digital and tech. The life of an apprentice will be brought to life and what an apprenticeship is all about through talks and Q&As, and join interactive employer workshops.
Who is this day for?
This informative and interactive event is for those 16+ and interested in considering a digital apprenticeship, Whether you're a college or sixth form leaver,  a digital bootcamp up-skiller, career changer  or Graduate of a non-tech discipline looking for a different direction and have interest in pursuing a tech career this event is for you.